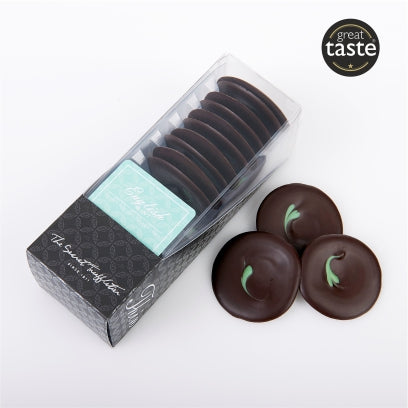 The Secret Truffletier
Mint Thins
Rich mint thins perfect for after dinner or just as a snack!
Winner of the 2016 Great Taste Awards.
 Dark chocolate buttons infused with English Mint.
120g
Dark chocolate contains minimum 72% cocoa solids. White chocolate contains minimum 30% cocoa butter 20% milk solids.
Ingredients: sugar, cocoa butter, whole MILK powder, cocoa mass, skimmed MILK powder, (emulsifier) SOYA lecithin, mint oil, copper chlorophyll, natural flavouring.
For allergens see ingredients in CAPITALS. This product may contain traces of nuts.
Nutritional Information (g per 100g)
Energy:                       2438 Kj/ 588 Kcal
Fat:                              45.4
-of which saturates: 27.4
Carbohydrates:         31.9
-of which sugars:      27.8
Protein:                      7.7
Salt:                             0.0