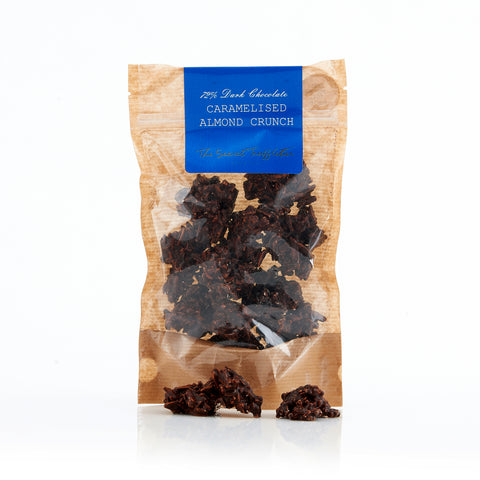 The Secret Truffletier
Dark Almond Crunch
Feel the crunch! 72% Plain Chocolate Coated Caramelised Almonds.
100g 72% Plain Chocolate Caramelised Almond Crunch.
--
Plain chocolate contains minimum 72% cocoa solids.
Ingredients: ALMONDS, cocoa butter, sugar, cocoa mass, cocoa powder, icing sugar, natural flavouring.
For allergens, see ingredients in CAPITALS.
This product may contain traces of milk & soya.
Nutritional Information (g per 100g)
Energy:                       2487 Kj/ 596 Kcal
Fat:                              50.2
-of which saturates: 14.5
Carbohydrates:         28.5
-of which sugars:      20.5
Protein:                      10.8
Salt:                             0