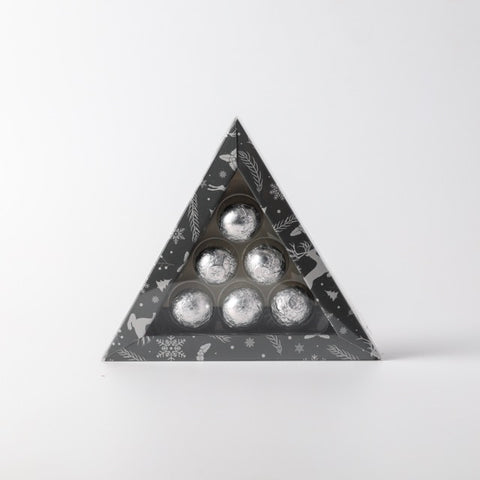 The Secret Truffletier
Milk Truffle Tree
Allergens: Milk and Soya.
--

Milk Truffles with a milk chocolate ganache centre in Silver Foil.
55g
Milk chocolate contains minimum 34% cocoa solids, 20% milk solids.
Ingredients: sugar, cocoa butter, whole MILK Powder, fresh cream (MILK), cocoa mass glucose, sorbitol, alcohol, cocoa powder, (emulsifier) SOYA lecithin, natural flavouring.
This Product may contain traces of nuts.
Nutritional Information (g per 100g)
Energy:                        2099Kj/503Kcal
Fat:                               32.6
-of which saturates:   20.4
Carbohydrates:          45.9
-of which sugars:       41.7
Protein:                       5.5
Salt:                             0.00