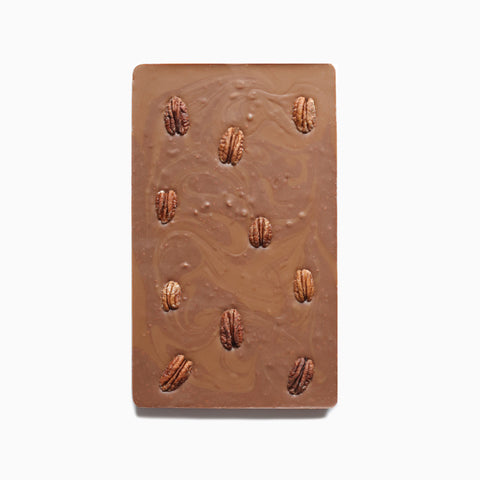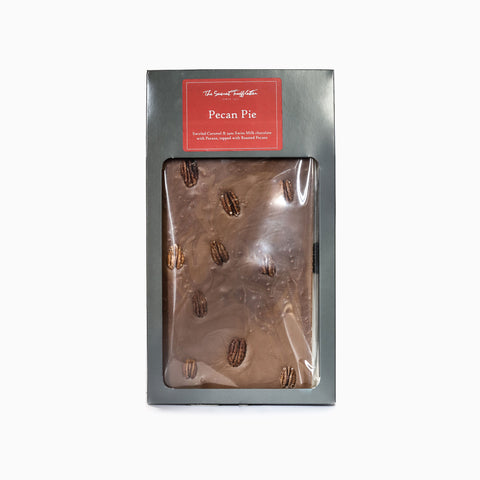 The Secret Truffletier
Pecan Pie Giant Chocolate Bar
A giant bar of Swiss milk chocolate with pecans, swirled with salted caramel and topped with roasted pecans.
400g

--
Milk chocolate contains minimum 34% cocoa solids, 20% milk solids.
White chocolate contains minimum 30% cocoa butter, 20% milk solids.
Ingredients: sugar, cocoa butter, whole MILK powder, PECAN NUTS, cocoa mass, sweetened condensed skimmed MILK, skimmed MILK powder, caramelized sugar, (emulsifier) SOYA lecithin, natural flavour, cocoa powder, spices, sea salt.
For allergens, see ingredients in CAPITALS.
This product contains nuts.  
Nutritional Information (g per 100g)
Energy:                       2402Kj/575 Kcal
Fat:                              39.5
-of which saturates: 20.6
Carbohydrates:        47.8
-of which sugars:     45.9
Protein:                     7.7
Salt:                            0.0