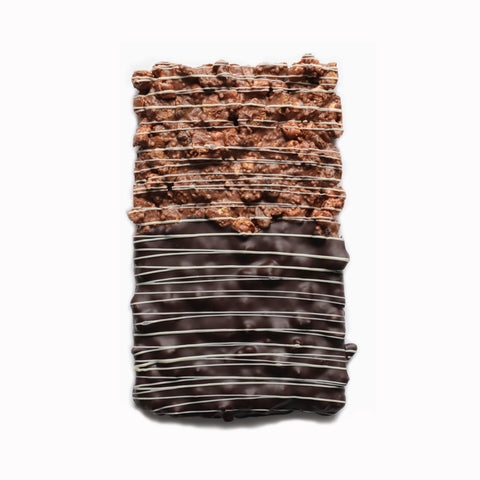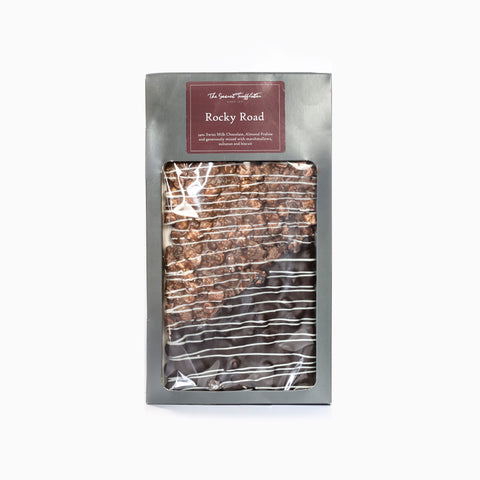 The Secret Truffletier
Rocky Road Giant Bar
A giant bar of Swiss milk chocolate, almond praline, generously mixed with marshmallows, sultanas and biscuit. Dipped in dark chocolate and finished with a white chocolate drizzle. 
400g

--
Plain chocolate contains minimum 72% cocoa solids.
White chocolate contains minimum 30% cocoa butter, 20% milk solids.
Ingredients: sugar, cocoa butter, whole MILK powder, oats, puffed rive, cocoa mass, ALMONDS, cocoa powder, sunflower oil, tabioca starch, golden syrup, natural flavourings, maize starch, (emulsifier)SOYA lecithin, slat, gelatine, sodium bicarbonate, beetroot colour, skimmed MILK powder.
For allergens, see ingredients in CAPITALS.
This product contains nuts.
Nutritional Information (g per 100g)
Energy:                       1587Kj/380 Kcal
Fat:                              24.6
-of which saturates: 15.3
Carbohydrates:         34.1
-of which sugars:      33.3
Protein:             5.1         
Salt:                    0.0