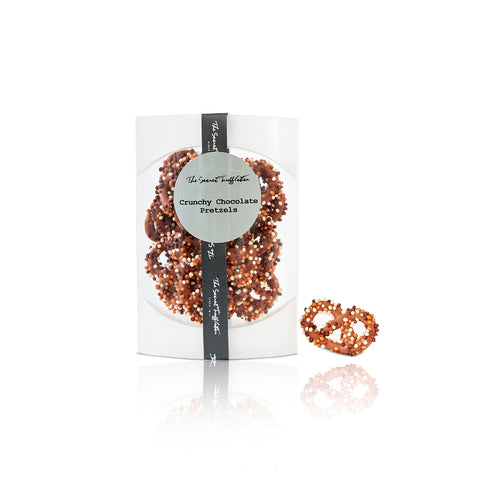 The Secret Truffletier
Crunchy Salted Milk Pretzels shapes
PtrezelsDeliciously more-ish Salted Milk chocolate pretzels.
Salted Milk chocolate pretzel shaped chocolates topped with coated puffed rice.
100g
Allergens: Milk & Soya.
May contain traces of nuts.
Milk chocolate contains minimum 34% cocoa solids, 20% milk solids.
Ingredients: Milk chocolate (sugar, cocoa butter, whole MILK, powder cocoa mass, (emulsifier) SOYA lecithin, natural flavouring); crisped cereals (rice flour, sugar, salt, cocoa butter), glazing agent (glucose syrup, sugar, glazing agent: gum arabic, coconut fat, modified starch).
For allergens see ingredients in CAPITALS.
May contain traces of nuts.
Nutritional Information (g per 100g)
Energy:                       2224 Kj/ 532 Kcal
Fat:                              30.1
-of which saturates: 18.9
Carbohydrates:         57.5
-of which sugars:      47.8
Dietary Fibre:            2.7
Protein:                      6.6
Salt:                             0.2