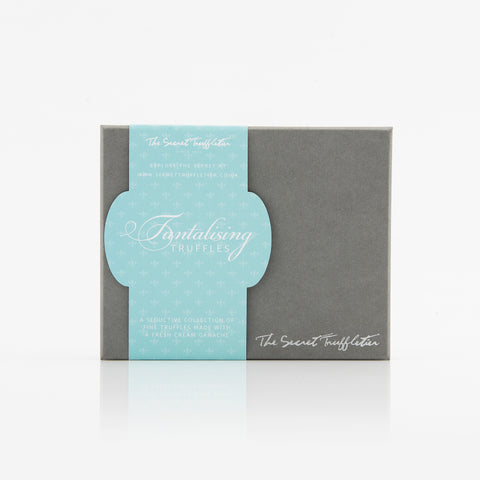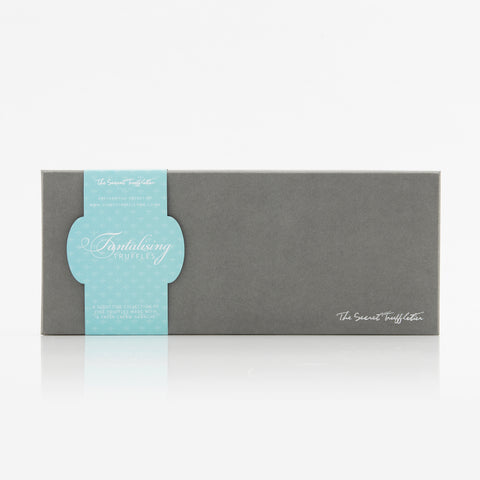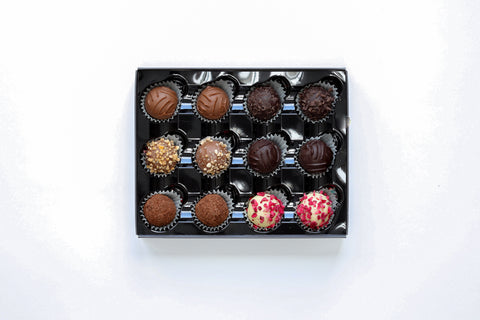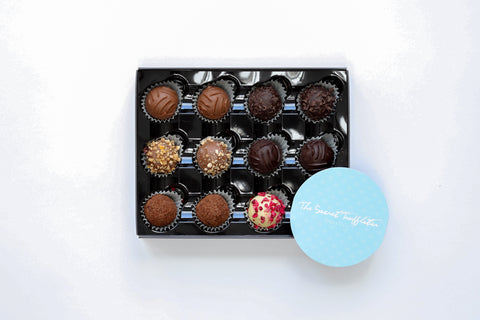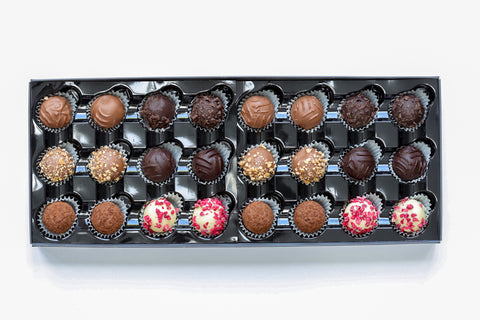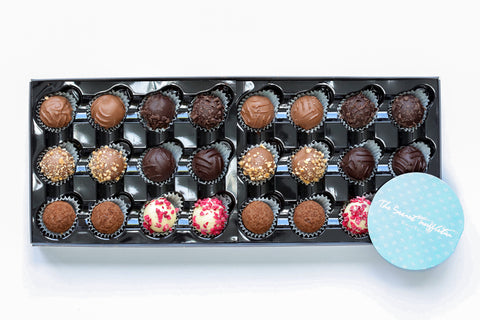 The Secret Truffletier
Tantalising Truffle Collection £12 - £22
A seductive selection of fine truffles made with a fresh cream ganache, presented in a beautiful gift box available in a choice of sizes.
**********
The Tantalising Truffle Collection includes:
Rum Truffle: Delicious dark chocolate truffle packed with a punch of warming rum.
Hazelnut Truffle: A heavenly mix of crunchy hazelnut shell enveloping the smooth hazelnut milk chocolate truffle.
Raspberry & Champagne: Delightful white chocolate shell with an explosion of raspberry and Champagne flavours inside.
Creamy Milk Truffle: Meltingly smooth milk chocolate truffle encased in a thick Swiss milk chocolate shell.
Salted Caramel: The ultimate salted caramel, coated in milk chocolate and finished with a dusting of cocoa powder.
70% Dark Truffle: A delightfully dark, rich truffle made using Swiss couverture with 70% cocoa solids to give a pure cocoa burst.
**********
The finest ingredients. A century of experience. The dedication and passion of our master Truffletier. This collection is the epitome of chocolate elegance. Pure indulgence. Enjoy with fine wine, dark coffee and great company.
Or keep them to yourself!
Plain chocolate contains minimum 72% cocoa solids.
Milk chocolate contains minimum 34% cocoa solids,
20% milk solids.
Ingredients: sugar, cocoa butter, whole MILK powder, fresh cream (MILK), glucose, cocoa mass, cocoa powder, sorbitol, HAZELNUTS, butter (MILK), icing sugar, marc de Champagne, sweetened condensed skimmed MILK, gin, rum, alcohol, orange liqueur, skimmed MILK powder, freeze dried raspberry, raspberry puree, (emulsifier) SOYA lecithin, natural flavouring, salt, invert sugar, beetroot colour, butter oil (MILK) natural orange oil, juniper oil, citric acid.
For allergens, see ingredients in CAPITALS.
This product contains nuts!
Suitable for vegetarians.
Nutritional Information (g per 100g)
Energy:                     2230 Kj/534Kcal
Fat:                            34.1
of which saturates:   18.1
Carbohydrates:        43.0
-of which sugars:     42.2
Protein:                      6.9
Salt:                             0.08