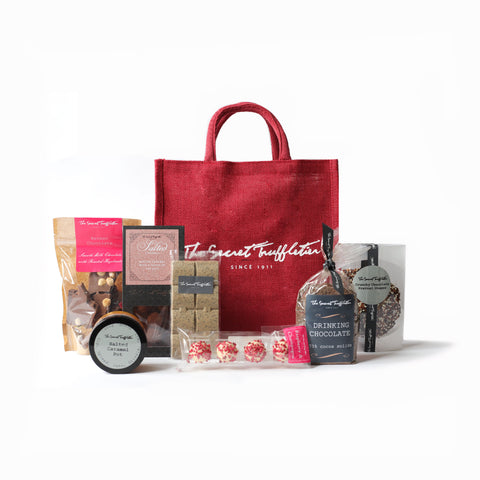 The Secret Truffletier
The Chocolate Lovers Hamper
A selection of The Secret Truffletier favourites.
The treats are packaged in one of our signature canvas bags and contains:
Drinking Chocolate, 300g
Our signature hot chocolate! Brimming with the deep, authentic flavours of cocoa. For those who like their drinking chocolate with a full-on chocolaty taste.
******
Salted Caramel Pot, 200g
Salted Caramel sauce. Perfect for drizzling on cakes or simply spreading on toast or pancakes.
******
Salted Caramels, 120g
Milk chocolates with molten salted caramel centres.
******
Broken Milk Chocolate, 175g
Smooth milk chocolate with roasted hazelnuts.
******
Salted Milk Pretzel Shapes, 100g
Salted Milk chocolate pretzel shaped chocolates topped with coated puffed rice.
*****
White Chocolate with Roasted Coffee Bar, 80g
Swiss white chocolate combined with crushed roasted coffee beans. 
*****
Raspberry & Champagne Truffles, 40g
Raspberry Champagne truffles enrobed in white chocolate.
*****
Allergens: Milk & soya. Contains nuts.