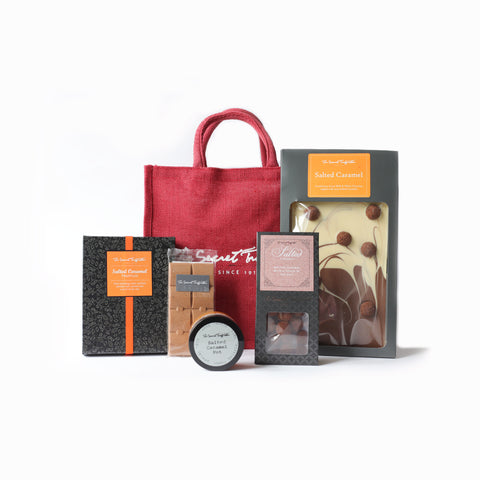 The Secret Truffletier
The Salted Caramel Hamper
This is a seriously decadent collection for the salted caramel lover in your life!
The treats are packaged in one of our signature canvas bags and contains:
Salted Caramels, 120g
Milk chocolate with molten salted caramel.
******
Salted Caramel Truffles, 120g
Wonderfully light luxury Salted Caramel truffles made with fresh whipping cream.
******
Salted Caramel Giant Bar, 400g
A giant bar of swirled 34% Swiss milk & white chocolate topped with oozy salted caramels.
******
Salted Caramel Bar, 80g
Salted caramel flavoured Swiss milk chocolate. 

******
Salted Caramel Pot, 200g
Salted Caramel sauce. Perfect for drizzling on cakes or simply spreading on toast or pancakes.
******
Allergens: Milk & soya. May contain traces of nuts.