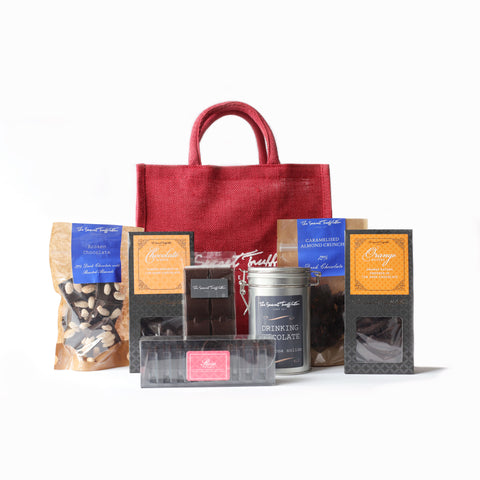 The Secret Truffletier
The Dark Chocolate Lovers Hamper
Our Dark Chocolate Lovers Hamper contains a selection of chocolates all made using a minimum of 72% cocoa.
They all happen to be dairy and animal derived product free too making this a vegan hamper as well! 

The treats are packaged in one of our signature canvas bags and contains:
Chocolate Ginger, 120g
Crystallised ginger pieces enrobed in 72% dark chocolate.
******
Orange Batons, 120g
Orange batons enrobed in 72% plain chocolate.
******
Rose Thins, 120g
Wonderfully rich and perfumey taste with a snap.
******
Broken Chocolate, 175g
72% Broken dark chocolate with roasted almonds.
******
Dark Chocolate with Honeycomb, 80g
72% cocoa dark chocolate bar with with honeycomb pieces. 
******
Dark Almond Crunch, 100g
Feel the crunch! 72% Plain Chocolate Coated Caramelised Almonds.
******
Drinking Chocolate, 300g
Our signature hot chocolate! Brimming with the deep, authentic flavours of cocoa. For those who like their drinking chocolate with a full-on chocolaty taste.
******
Allergens: Contains Nuts and Soya.
May contain: Milk